Top Survey Respondents, by Industry
Idaho Statewide Insight
"Approximately, 4 out of 5 employers have tried to hire someone in the last year."
The Department of Labor produces detailed regional reports based on current employment data.
DOWNLOAD THE REPORT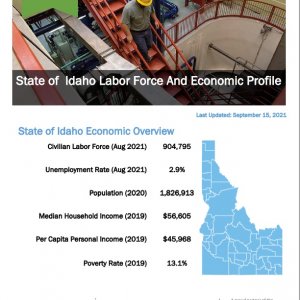 In Idaho, these were the most requested skills & qualities.
Professional Skills
Professional Qualities
Trending jobs in Idaho
Regional
Industrial Machinery Mechanics
Typical Salary: $51,810
Repair, install, adjust, or maintain industrial production and processing machinery or refinery and pipeline distribution systems. Excludes "Millwrights" (49-9044), "Mobile Heavy Equipment Mechanics, Except Engines" (49-3042), and "Maintenance Workers, Machinery" (49-9043).
Required Training:
High School Diploma or Equivalent
Regional
Registered Nurses
Typical Salary: $67,110
Assess patient health problems and needs, develop and implement nursing care plans, and maintain medical records. Administer nursing care to ill, injured, convalescent, or disabled patients. May advise patients on health maintenance and disease prevention or provide case management. Licensing or registration required. Includes Clinical Nurse Specialists. Excludes "Nurse Anesthetists" (29-1151), "Nurse Midwives" (29-1161), and "Nurse Practitioners" (29-1171).
Required Training:
Bachelor's Degree
Typical Salary: $54,720
Design, create, and modify Web sites. Analyze user needs to implement Web site content, graphics, performance, and capacity. May integrate Web sites with other computer applications. May convert written, graphic, audio, and video components to compatible Web formats by using software designed to facilitate the creation of Web and multimedia content. Excludes "Multimedia Artists and Animators" (27-1014).
Required Training:
Associate Degree
There are opportunities for training all over Idaho, and even more online. Research opportunities by region, industry or skill.
RESEARCH TRAINING OPPORTUNITIES