What is Idaho LAUNCH?
Through a statewide survey of Idaho employers, we identified the in-demand skills currently needed in our state. This website features tools that help you match your skills with employer needs and research training opportunities for skills you may be lacking. These are training opportunities that can be partially paid for through Idaho LAUNCH. Powered by workforce trends, labor data, and insights into future job growth in the state, we have developed what we hope to be a research hub for your own professional reset.

The Survey
We asked Idaho employers from every region of the state to complete a detailed survey in which they identified the most relevant short-term skills that will help applicants be successful in their industries. We received 845 responses; 91% of respondents were either managers or executive-level employees, and 96% stated they had influence in the hiring process. The top five industries that responded were Construction, General Business, Healthcare, Transportation & Manufacturing and Hospitality/Tourism.

The Employment Landscape
After surveying employers, we compared their needs with Idaho's job postings in order to focus on the most in-demand skills in every region of the state. Using this data, we developed SKILL SYNC, a tool that allows jobseekers to match their current skills to employer needs, identify opportunities for professional development, and research specific courses to build their resume.

Education & Training
We interviewed nine Idaho public institutions, as well as other online training providers, to match the current course offerings to the skills in highest demand in each region. Our featured courses will be updated regularly as new training becomes available. And we have partnered with the Idaho Department of Labor to provide career planning and an evaluation of training funds in order to help job seekers find a quick path to the training they need, at a cost they can afford.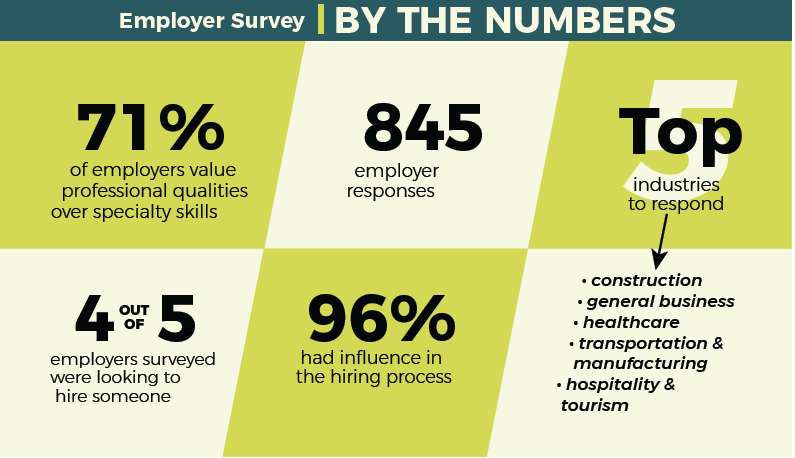 Research by Industry, Region, or Training Opportunity